World's first and largest manufacturer of Electric Staplers since 1949!


Staplex® ULTRA Heavy Capacity Electric Staplers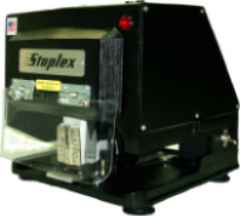 Staple up to 100 sheets of 20-lb. (75 g/m2) paper or equivalent at tap of electronic footswitch!

Re-loads in seconds with 4 sizes of staples – ¼", 3/8", ½", and 5/8"

"Hi-Low" switch to adjust stapling impact delivers the right stapling power every job

Portable, no mounting, sets on desk, table, bench

Direct-drive solenoid for tight, positive clinch

Dual adjustable locking backstop to 4 inches (10.2 cm) depth for super neat stapling!

Jam-proof all steel staple mechanism

Staple paper, corrugated, plastic, cardboard, cloth and more!
Uses Staplex Type HO-1/4, HO-3/8, HO-1/2 and HO-5/8 High Speed Staples. (See below for capacities.)
Completely portable. No mounting required.
Notes: Right leg of staple should be minimum of 1.25" (3.2 cm) from right edge of material to activate safety microswitch attached to the adjustable locking backstop on the right side of the stapling head.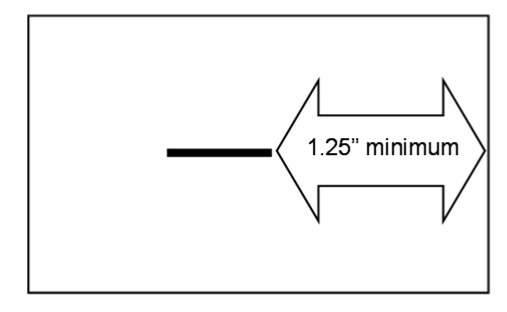 Optional left side contact safety microswitch available on special order (to allow positioning right leg of staple closer than 1.25" from the right edge of material.)
Weighs 22 lbs. (10 kg) Dimensions: 10‑½" wide, 10‑¼" deep, 10" high (26.7 cm x 26 cm x 25.4 cm).
Models:
Model SU-100: Ultra Heavy Capacity Electric Stapler – 110-125 volts, 50-60 Hz AC
Model SU-100A: same as above for 220-330 volts, 50-60 Hz AC
Staplex High Speed Staples for Model SU-100
(1,000 per box):
Type HO-1/4 1/4" High Speed Staples (up to 20 sheets)
Type HO-3/8 3/8" High Speed Staples (20 to 50 sheets)
Type HO-1/2 1/2" High Speed Staples (50 to 80 sheets)
Type HO-5/8 5/8" High Speed Staples (80 to 100 sheets)
For stapling beyond 100 sheets of 20-lb.
(75 g/m2)
paper or equivalent, see our Staplex®
Heavy Capacity Manual Staplers