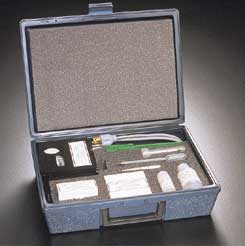 Designed for clearing Mixed Cellulose Ester (MCE) Filters for asbestos analysis
Features of Acetone Vaporizer Unit
built-in heat control to maintain specified temperature
built-in thermometer
heavy-duty heater unit
grounded cordset
compact and lightweight
Made in U.S.A.
Description
Staplex Model AV-100K is designed to clear microscopic slides quickly and economically using the Acetone/Triacetin filter mounting method for preparation of PCM samples. Model AV-100K is designed to meet NIOSH 7400, 7402 and OSHA ID160 requirements. Model AV-100K Acetone Vaporizer and Analysis Kit includes all components needed to prepare slides for PCM analysis on site or in the laboratory.
Kit Components
Acetone Vaporizer unit, 110 VAC (also available for 220 volts)
72 microscope slides and cover slips
2-oz. Acetone
0.5 oz. Triacetin
Tweezers
Micro-pipette Dropper
Acetone Injection Syringe
Scalpel
Hard-shell Carrying Case
Instruction Manual
Ordering Information:
Model AV-100K Acetone Vaporizer Kit - 110 VAC
Model AV-100KA Acetone Vaporizer Kit - 220 volts